The busing of migrants to cities across America is politically helping Texas Governor Greg Abbott's reelection campaign, according to a new poll.
The poll conducted by Spectrum News and Siena College released Wednesday shows Abbott with a seven-point lead, 50 percent to 43 percent, over Democratic challenger Beto O'Rourke. Abbott, seeking his third term in office, has made headlines for sending migrants to cities like Chicago, New York and Washington, D.C., as part of his "Operation Lone Star" program introduced in March 2021.
Between April and mid-August of this year, he sent over 6,600 asylum seekers on 30-plus-hour bus rides—often without food, water, medical supplies or rest stops.
On September 15, Abbott bused 75 to 100 migrants to Vice President Kamala Harris' house in D.C.
Abbott has 95 percent of Republicans' support, and O'Rourke has 93 percent of Democrats' backing. White voters favor Abbott, 64 percent to 31 percent. Black and Latino voters prefer O'Rourke, 79 percent to 10 percent, and 58 percent to 36 percent, respectively.
About 31 percent of respondents named immigration as the top concern and 22 percent said the same about abortion.
The poll of 651 likely voters was conducted September 14 to September 18, with an error margin of +/-4.4 percent.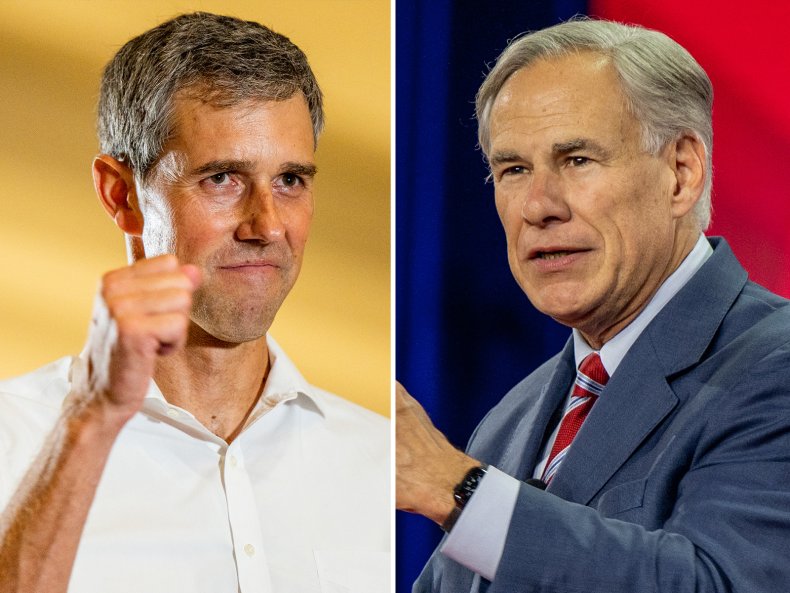 Don Levy, director of the Siena College Research Institute, told Newsweek on Friday that self-identified independents—which compose about one-third of Texas' voter base—are the "swing voters" that will decide the election.
While the poll shows Democrats are highly engaged due to the overturning of Roe v. Wade and what they view as an assault on reproductive freedom, independents see things differently.
"When the issue is immigration, not only do [voters] say it's the No. 2 issue in Texas behind the economy, it's the second-biggest issue among independents," Levy said.
Likely voters were asked about Operation Lone Star and the use of the Texas National Guard and state troopers to catch/jail illegal migrants. Independents said they support such policies, by 58 percent to 35 percent. GOP support is at about 93 percent.
When asked specifically about supporting the busing of migrants, Texas voters overall support it, by 52 percent to 40 percent. More independents also support it than reject it, by 47 percent to 44 percent.
"At this point in the race, it appears just enough that immigration is trumping the concern, the opposition, over abortion," Levy said. "And consequently, all three top-of-ticket incumbents are holding leads between five and nine points."
Texas Lieutenant Governor Dan Patrick and Attorney General Ken Paxton are also leading their respective Democratic opponents, Mike Collier and Rochelle Garza, by 9 percent and 5 percent.
A bigger issue for O'Rourke in overcoming this deficit may be how voters view him, Levy said.
"I was a little surprised that O'Rourke's favorable/unfavorable was underwater," he said, alluding to how 59 percent of respondents find him "unfavorable."
While independents mostly share O'Rourke's position on abortion, the same likely voters don't tend to believe Democrats are better on the economy—which remains the No. 1 issue "across the board" in polls Levy and his colleagues have done in swing states this election cycle.
In Texas, about 64 percent of respondents said they are cutting back on everyday items, according to polling.
"In any state that's a contested battleground state, the Democrat has got to persuade the electorate … that the Democrats are going to do a better job on the economy. … The economy is on everyone's mind. Not everyone watches their 401k every day, but that causes more economic anxiety," Levy said.
He added that O'Rourke somehow has to cut into Abbott's voter base by chipping away at independents, since "he's not gonna move the Republicans."
Newsweek has reached out to the Abbott and O'Rourke campaigns for comment.