King Charles III and Meghan Markle have both been accused of being rude to staff in the aftermath of Queen Elizabeth II's death.
Britain's new monarch, 73, appeared to grow frustrated during the meeting of the Accession Council at which he was formally proclaimed king.
Charles was signing an oath when he appeared to struggle to make space on the table and signaled for a tray of pens to be moved.
One Twitter user wrote: "Manners cost nothing! Took him more effort to wave his hand a dozen times than to move it himself."
Another wrote: "This is the real Charles you can't hide who you are this is how he's been treating the servants for years with such little respect. Fanning his finger to clean the desk off and move the object. Showing your real Arrogance you will fail it's in the cards."
Some defended the new king over his actions two days after the death of his mother and in the full glare of public scrutiny.
However, the reactions on social media mirrored responses to a brief and ambiguous exchange between Meghan Markle and a royal staff member outside Windsor Castle later the same day.
The Duchess of Sussex was holding a bunch of flowers which she told the aide she did not want to hand over because she promised a well-wisher she would lay them herself.
Meghan said: "I told them I'd place them over there so it's OK. Thank you. I appreciate it though."
A headline on the website of U.K. tabloid The Daily Express read: "'No, I'm going to carry them' Meghan Markle caught in awkward spat with royal aide."
One Twitter user wrote: "The big guns had to step in when Meghan refused to let go of the flowers the first aide tried to take from her as she herself wanted to walk them over to the other tributes."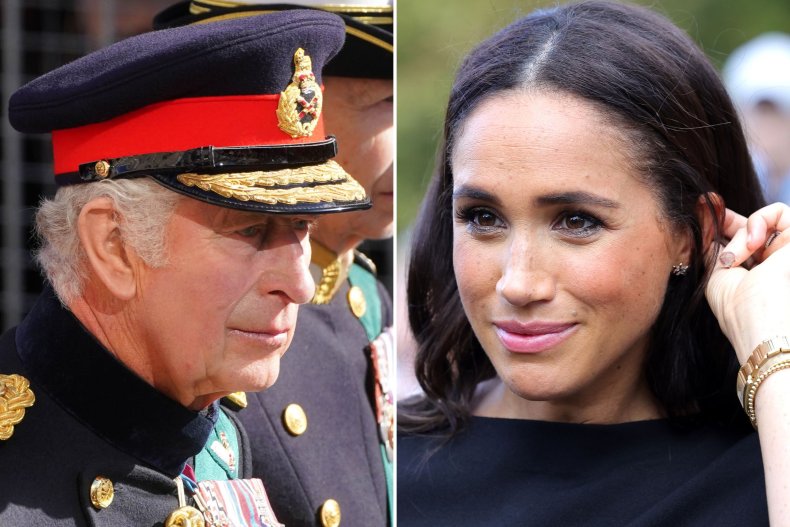 A fan defended the duchess, saying: "Can't believe the Meghan bashing has started already, it's the first time she's experienced this and was doing her best, she probably promised to lay the flowers down herself and that's what she was going to do till told by Harry it's alright to pass them over."
The two similar incidents show how much social media communities are willing to read into fleeting moments, even when the public figures they are commenting on are in mourning.
In his first speech, Charles said on Friday, September 9: "I speak to you today with feelings of profound sorrow. Throughout her life, Her Majesty The Queen—my beloved Mother—was an inspiration and example to me and to all my family, and we owe her the most heartfelt debt any family can owe to their mother; for her love, affection, guidance, understanding and example."